Over the course of a year, the Living History Project presented a wide variety of free, public programmes that invited the community-at-large to explore their own heritage.
As well, our Grade 10 history students attended workshops in oral history gathering to coach them in the craft and techniques of community journalism – and community elders awakened the students to the secrets of their own neighbourhood in a series of field trips, from wildcrafting to salmon streamkeeping, to a historical walking tour of Morrison Nature Park.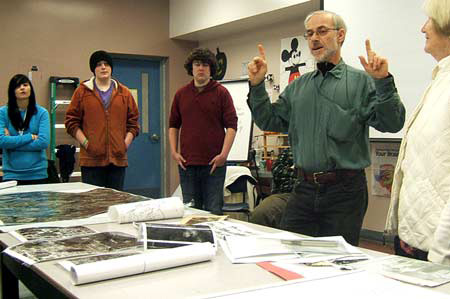 Using their own family histories as a starting point, students were trained in oral history techniques and the art of critical enquiry, preparing them to conduct the intensive two-hour interviews in the subjects' own homes.
The project tried to follow good practices, inspired by such masterful story-gatherers as Studs Terkel, the Foxfire series in rural Appalachia, and even our local historian Betty Annand. Students were encouraged to jump into the driver's seat and frame their own questions, drawing out the essence of a person's life history. By this process, we hoped to 'bridge the generations' and inspire a greater understanding of what we have in common.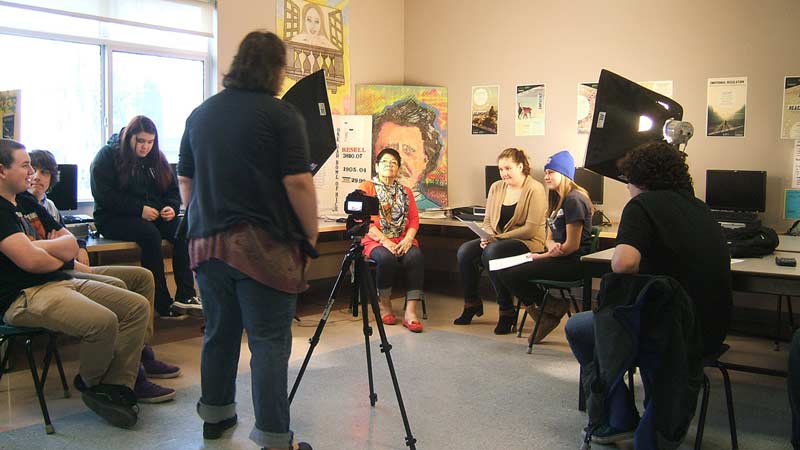 MORRISON CREEK WALK
Lake Trail School is built on the site of an old 160-acre farm homestead. Members of the Morrison family who had grown up on the farm led us on a guided walking tour of the Morrison Creek area and shared their memories. READ THE STORY AND SEE THE VIDEO…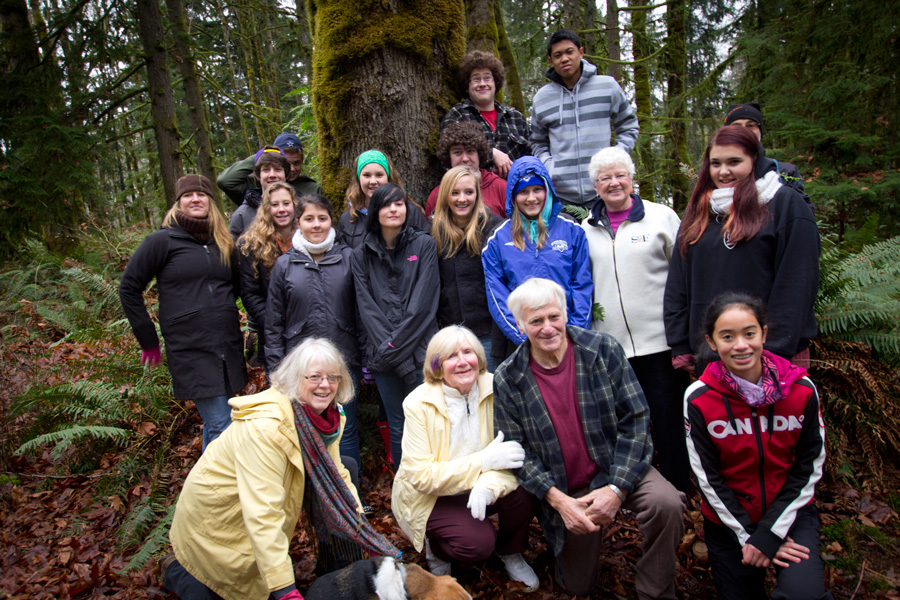 SCYTHING
Hand tool enthusiast Rob Rhodes schooled us in the subtle art of scything – the way that everyone cleared the grassy fields in the halcyon days before lawnmowers. There's a knack required – it's harder than it looks!

WOOLLY MAMMOTH CRAFT CLUB
The Woolly Mammoth Craft Club invited elders to mentor young people in a knitting revival. From dyeing wool to making hats, scarves and even outfits for pets, many of our elders have knitted for over 70 years as an essential thread throughout their lives. With help from facilitators Barb Kenney and Shirley Apsouris, they were delighted to to pass their skills on (and help untangle a mountain of donated wool)!
Knitting memories were gathered in the Club's logbook, and every knitter added a unique, personalized loop to B.C.'s Longest Knitted Chain, in an attempt to set a new Canadian record. This fun weekly program continues with gusto, and plans to send the knitted chain around B.C. to be continued by other clubs.

---
Watch the video…

WILDCRAFTING
Metis elder Jackie Finnie shared her knowledge of local medicinal plants on a wildcrafting mission which took the students out on a brisk, November walkabout in search of tea-brewing ingredients. READ THE TRANSCRIPT AND SEE THE VIDEO…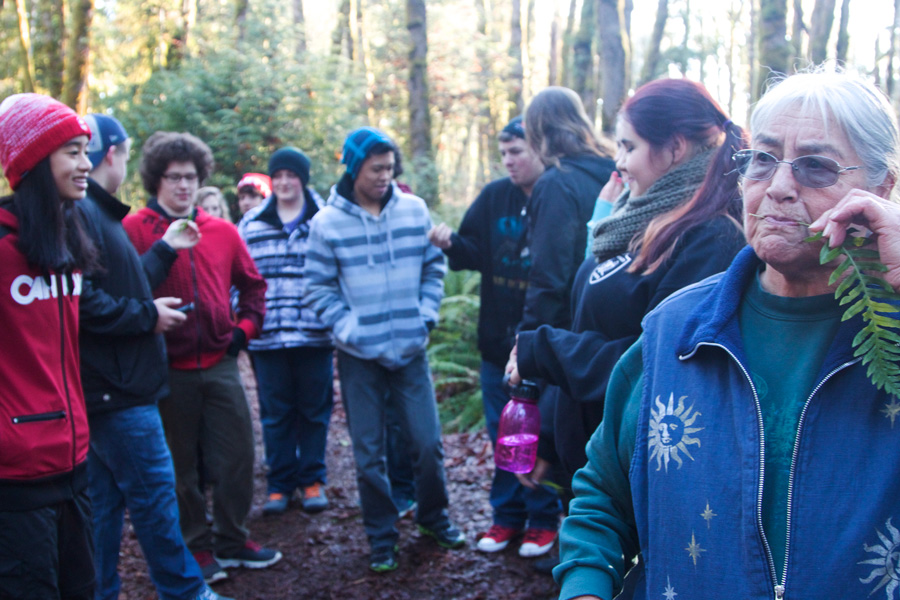 LOCAL HERITAGE
Courtenay's ex-fire chief Lawrence Burns, a living encyclopedia of stories of dramatic fires and rescues, kicked our project off to a roaring start with unique tales of his grandfather, one of the first settlers in the Valley. (Lawrence returned later for a detailed personal interview).

FAMILY HISTORY
Local family historians Sherry Irvine and Barbara Page introduced elders to Digging for your Roots: How to Research Your Family History in a free series of genealogy workshops.