Lawrence Burns was Courtenay's fire chief between 1969 to 1996.  Lawrence has a great love for local history, and is highly active with the City's Heritage Commission. He's been in Courtenay his entire life, and is a veritable encyclopedia of knowledge about the Valley.  He regaled us with stories of dramatic fires and rescues, and tales of his pioneer grandfather, one of the first settlers in the Comox Valley.  The interview was conducted by Bernadette and Terran.
---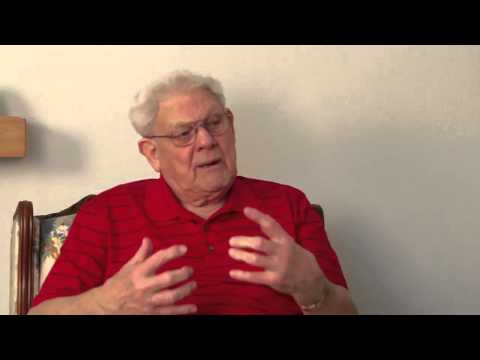 Can you describe the neighbourhood you grew up in?
I grew up on what is now 550 McPhee Avenue. That was my dad's address, and mine too when I was born. That was on March 21, 1929, so my birthday is just coming up. I'll be 85. When I came home to that house from St. Joseph's Hospital, it was called Sunnyside Avenue. And then they changed it to Queen Street, and in 1945 all the streets in Courtenay were changed to what they are now, proper order and numbering, and it became McPhee Avenue. At that time 5th Street was called Union Street. So you would go up Union to Sunnyside and turn left and we were the third house, and the last house at that time on McPhee Avenue. So McPhee Avenue was just half a block long. That was my home for 28 years.
They bought our house there when they got married in 1927. At that time, it was just a little short lot. There was one house next to us, and one house sort of partly across from us, so we did have neighbours. There was bush in a lot of the area around, although Courtenay in 1929 was starting to expand and there were houses further up Union Street. It was very quiet, naturally. There were two good families next to us, so I had some good playmates when I got old enough to want to be playing. As it is now, it was about half a mile from the centre of downtown Courtenay, so we were not too far from downtown, although I very seldom got downtown. Occasionally I would go down with mum, shopping and that. Behind our house we had our backyard and garden but it was a field, not big trees but bush and field. So that gives you a picture geographically of where it was, cozy little neighbourhood.
One thing I remember, seeing we've just had snow, in those days they didn't have snow plows like they do now, and we had a real big fall of snow, I think in 1938 or maybe earlier, and it was so bad they had to bring bulldozers down from the logging camp to clear the streets. Of course, they didn't have angle plows so they just pushed the snow. They couldn't go any further than our house because the bush was there… so there was this mass of snow piled. It was one time I got a very severe talking to, because we kids built this pile of snow into a big throne and then we acted as the king and queen and pushed each other off of it, like kids do. And I would get up on top and one time when my mum heard this comment of mine that's when I got into trouble. I said to the person below me, "I'm the king of the castle and you're a dirty rascal" and that was a no-no!!
Prior to my dad getting married, he was looking for a house. He had a customer in the garage that he worked in, and this customer had also been thinking about getting married and had bought this older house and had renovated it. And it was getting close to the time to be married, and his fiancé and him had agreed this was a nice place. Then he made a big mistake. He went and bought a woodstove and didn't ask her. And she was very upset about that, and so they ceased their love affair – she jilted him, as they called it in those days, and left him! And then he said, "well, if that's what women are you can keep'em!" And he never ever did marry. He was a bachelor for the rest of his life. So he had to sell his house. My dad bought his house.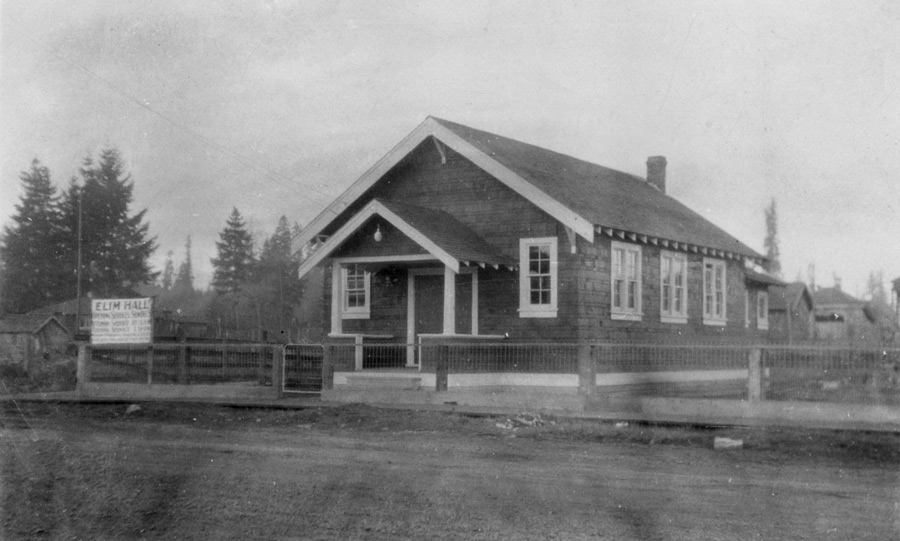 Interestingly, I was going through my dad's stuff before he died, we were going through some old stuff because it was getting close to the end, and found a large payment, $750, in 1927 in his original bank book. He said "that's what I paid for the house, $750". Of course, he made ten cents an hour, maybe, in those days! That house is still standing. It's still on McPhee Avenue. I lived there for 28 years, that was home for me, and then I bought this house that I'm in.
I've only been living in two houses in all my life. The house had electricity, we had electricity in Courtenay. We had a telephone, a lot different than what we've got now. It had a crank on it, you've likely seen pictures. We had a well. No, I should say the city did have a waterworks. It came in 1922. We didn't have that much money, but we had water in the house – cold water, no hot water, and no inside toilets, no inside bath. We had a bathtub that we took baths in, in the kitchen. Mum would heat the water on the woodstove. That was the way things were when I came into the world. I remember getting what we called inside plumbing. In fact, they turned my bedroom into a bathroom. I was most upset about that! So we didn't have to go outside in the cold and we got hot water in the house too.
Just a cute little story – when I was getting married I didn't want any woodstove or anything like that but I wanted to have a fireplace and a chimney so whatever kind of heat I have, you know when the power goes off you don't have oil, you don't have gas, you don't have electricity. So I finally found this house I bought. It had a fireplace. It had electric heat. It had all the bells and whistles. I didn't have to worry about chopping wood or getting in the dirt from the oil and all the rest of it. And that was only been lit once in 56 years! But it's a fireplace. I've never been out of power that long so I didn't need it.
My chores when I was a kid, one of them, was chopping wood and then I was so glad when we got a sawdust burner. I don't know whether you've ever even heard of them, but there was sawdust from the mills and you'd get a shed of it and you'd bring a bucket and you'd bring it into the kitchen. It was quite messy and dirty but it was dandy heat. That was my job, bringing that in, so that was not too hard to do. But with electric heat you just turn it on!
How has your neighbourhood changed?
Of course it's full of houses everywhere now, and McPhee Avenue was opened up and it goes right across the town now. It built up quite quickly before I left home when I got married, I would say Sixth Street was in, and it was pretty well solid with houses right along there. And we had a hardtop road – it was all gravel when I was young. We got cement sidewalks in. There was a time when a lot of them were wooden, then they put in all in through the city and always kept the concrete sidewalks. And as I mentioned before, we got the water system and, for those days, all the modern conveniences.
You know where the theatre was that burnt down on main street? That theatre wasn't there when I was a kid. It was built in 1940, and they had a wooden sidewalk up Fifth Street. I used to walk up the alley through that lot, and underneath that sidewalk were pennies and nickels that fell through, so I'd find a penny or a nickel and I figured I had the world by the tail. There was a five-and-ten cent store right across the road, and I could buy three jawbreakers for one penny.
We ended up with a corner grocery store. It's called the Apple Tree now, going up Fifth Street, you know, the Apple Tree grocery there? It was called the West End store when it was originally built. That was kinda neat. We could go for a chocolate bar and pop and stuff like that. So all that was progress, I guess. And the railway was running, it started in 1914, and it came right through and actually ended on the other side of Fifth Street. Freight trains would come in, farmers were shipping stuff out. And we used to go up and play on the boxcars and get into trouble again.
Just as you go up now on Fifth Street, where the rail was, on the right hand side just before you get to Menzies, there was what we call a corral, and people could bring cattle and horses in. In those earlier days there were people moving here, what we called, "lock, stock and barrel"; horses, cows, cats, all their furniture and everything. They would come in on a freight train. All the livestock would be put in the corral and then they would walk them to the farm wherever the farm was, out in the country. So we used to have a lot of fun as kids out there watching that. We had a circus come to town a few times, a real animal circus, Clyde-Beatty circus. The whole works came in by rail there. Man, we were in heaven then! Elephants and everything coming in! That all changed over the years. Now it's gone the other way. That isn't there.